This first quarterly newsletter of 2022 provides a brief overview of the Denver real estate sales and rental market with some graphics of market data and statistics.
Sales Market Insights – Real Estate continues to be a pillar of strength in the 2022 Colorado economy despite global uncertainty and upheaval. With ~6% month-over-month appreciation and interest rates rising, an individual's buying power steadily declined. However challenging the market conditions, hyperactive buyer demand remains a persistent theme of the last 24-months.
For properties listed under $1 Million, median days in MLS was 5 days for single-family homes and just 3 days for condos and townhomes. The lack of inventory coupled with a surplus of buyers has caused prices to rise quickly leading to an unprecedented close-to-list-price ratio of 105.52% in February. In the $1 Million+ luxury market segment, 97% of new listings in February went under contract before the end of the month, and month-over-month sales volume increased ~43% for single family homes and 32% for condos and townhomes.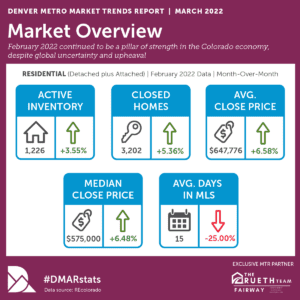 Rental Market Insights – Nationally, the average rental rate in February increased by ~15% compared to the same time last year according to a recent Redfin analysis. Since the first time last summer, Denver rents began increasing at the beginning of this year but if it's any consolation to the renter feeling the pain, the 15.8% annual rent growth in Denver is just slightly below the national average of 17.6%. Denver is the #1 Gen Z rental market in Colorado with a recent 29% spike in the share of applications submitted by "Zoomers" who now account for nearly one third of Denver renters.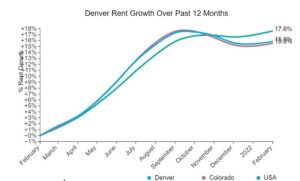 Last May, Denver City Council voted to require all landlords to obtain licenses to lease out their properties, a program the city says will help it keep track of its rental stock and enforce better living conditions. This week the city will begin accepting rental licensing applications giving landlords a chance to pay half of the price for an application fee before the licenses become a requirement next year. There are several phases of the program and starting January 1 2023, licenses will be required for residential dwellings of two or more units, which would include apartment buildings and complexes, condos, and townhomes. Landlords of single-family homes, single condo, or rowhome, must obtain their license by January 2024.
Downtown Denver Real Estate Snapshot as of March 29, 2022 –
Only 88 active "For Sale" listings exist on the market in the 80202 zip code
The highest priced property is a condominium listed for $4,700,000
The lowest priced property is a condominium listed for $235,000
There are just 18 privately owned properties for lease listed by Brokers in the 80202 zip code
New Condominiums For Sale –
The Arbory – City Park West neighborhood (contact me if you are interested in buying!)
New Downtown Luxury Rentals available for 2022 occupancy –
Citizen – Golden Triangle Neighborhood
The Fitzgerald – LoDo Neighborhood
I hope you enjoyed this quarter's newsletter and I look forward to Brokering deals with you in 2022!
Happy Spring!
Browse all listings in the MLS on our website here