When preparing this newsletter on the afternoon of the Autumnal Equinox I caught myself pausing to reflect on how fast this year has gone by but also feeling grateful for the recovery of the downtown residential market after many months of uncertainty. It is exciting to be engaged with my clients and local developers in collaboration on evolving visions for how people will live and work in the future of residential real estate in Denver. In addition to hiring three new Broker Associates, I have also finalized a long-overdue trade name change with a proper logo to match our vibe (more on that below).
Third Quarter Market Insights
Employment is rebounding nicely in the Denver Metro front range
Single Family Home prices have increased faster than rents by a factor of 2
Barring a recession, vacancy is expected to remain near a stabilized level
Buyer demand remains strong, pushing prices and compressing cap rates to record low levels for investors
The Denver Metro market continued to be competitive for buyers with a 21.8% dip in inventory from August 2021 compared to July 2021
Despite a continued shortage of inventory, market demand cooled slightly with days in MLS up 20% month-over-month to 12 days, and solds decreased by 4.5% month-over-month – perhaps attributed to buyer fatigue and seasonal events
The close-to-list-price ratio dipped slightly month-over-month from July to August
The August month-end active inventory dropped nearly 12%
Good opportunity remains for burnt-out buyers to re-enter the market as seasonality takes hold of the area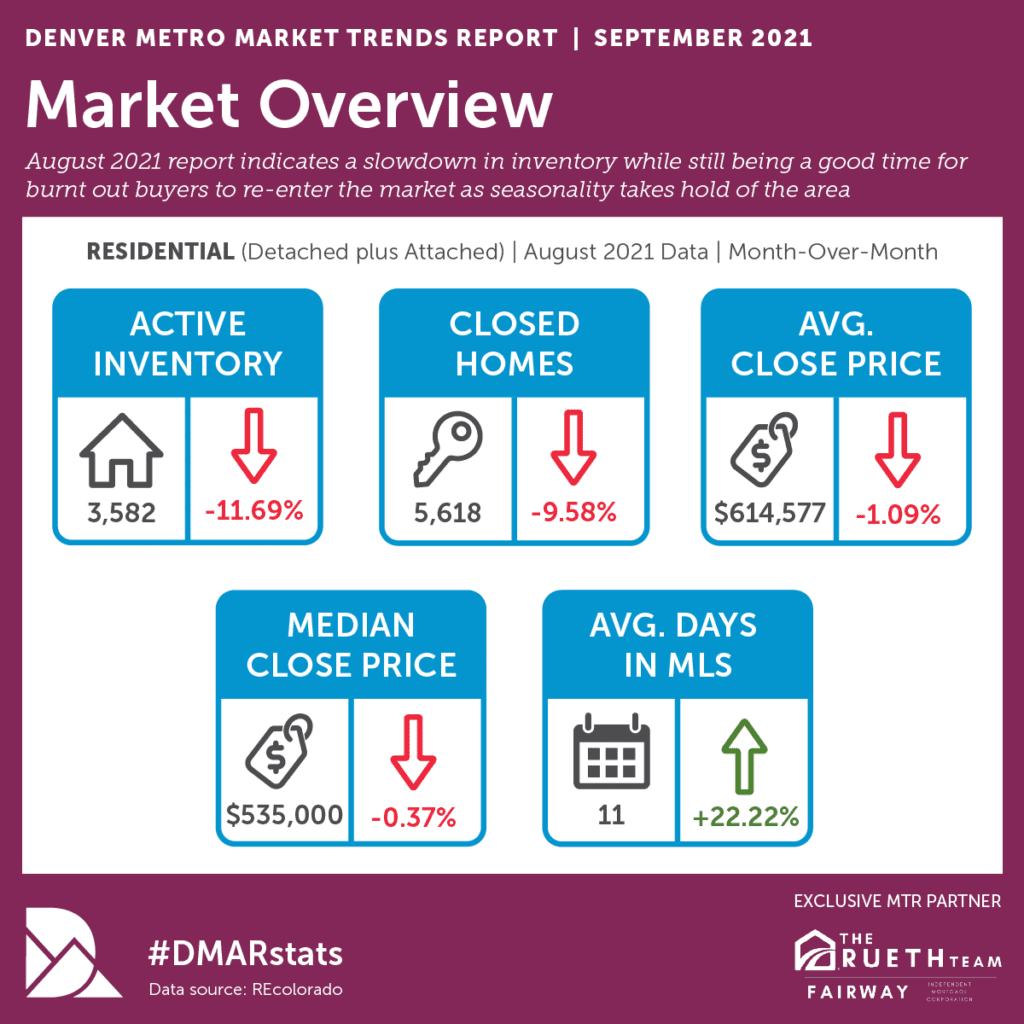 Company News:
Denver Apartments Boutique, LLC DBA City Lights Denver
Due to substantial growth in my brokerage operations I have rebranded Denver Apartments Boutique as City Lights Denver. The trade name change reflects an evolution in strategy for the company and a continued focus on growth in the downtown rental and sales markets. In this way, I believe the firm will be better positioned to attract and retain talented agents while shifting from the perception of only serving the needs of the apartment market.
Noteworthy Read – Zip code breakdown on how the Denver homeownership landscape changed after the pandemic (article link)
Thank you for keeping my services in mind, your referrals and repeat business are the highest compliment I can receive! Please feel free to call or email me with questions, I always look forward to hearing from you.