Since my last newsletter in June, all major statistical categories now point towards the real estate market slowing; Days in the MLS went up 120% since last year at this time, and the close-price-to-list-price ratio dropped below 100% for the first time since July 2020, to 99.41%. Meanwhile, the median sales price decreased 2.54% from the previous month (see attached infographics for more data).
Year-to-date, the Denver Metro is up 8.49% in median sales price. That translates to the average homeowner gaining ~$49,233.51 in equity. New listings dropped 15.5% year-over-year. Sellers may be less motivated to relocate now as their current interest rate is most likely significantly lower than what they could get if they bought. Many would-be buyers remain renters as rising mortgage rates make buying more challenging.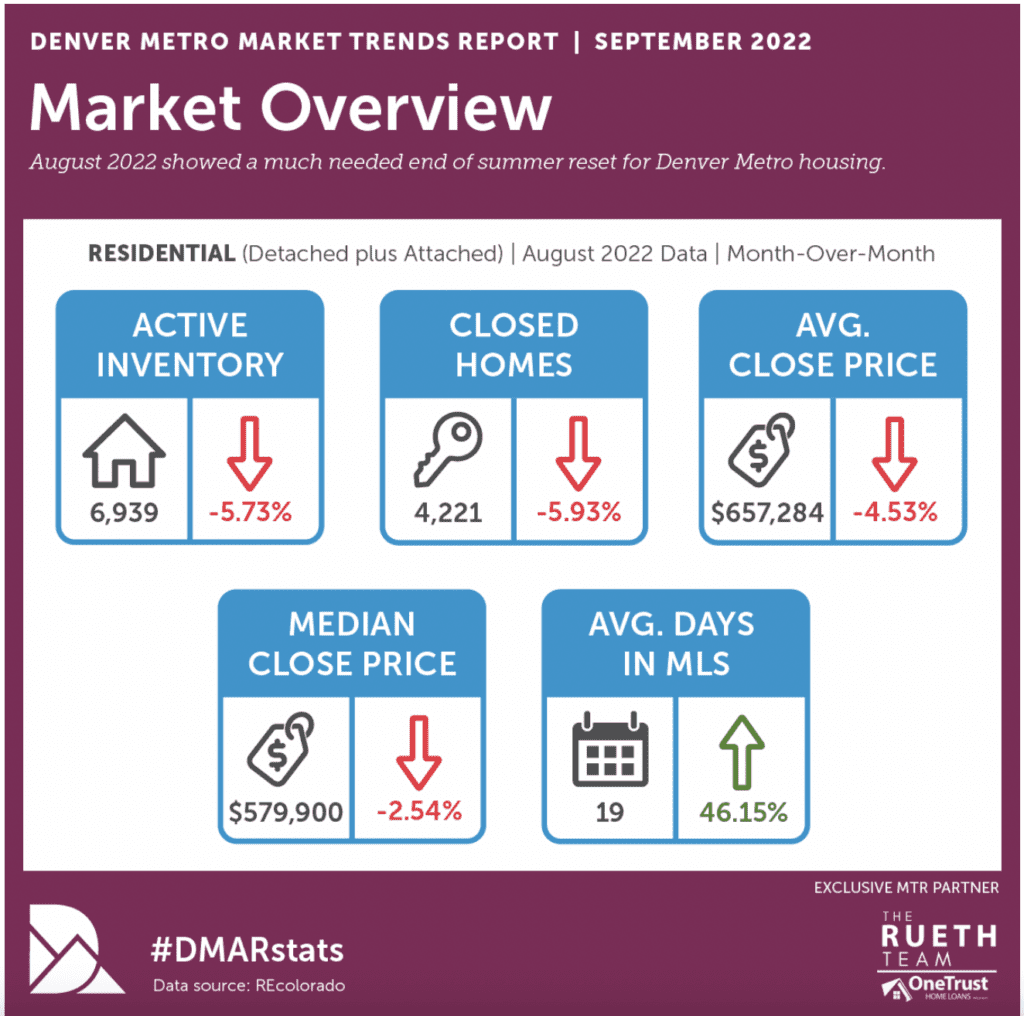 Denver ranks 9th most expensive metro in the country and in August the median asking rent totaled $2,550, a roughly 46% increase from August 2021, and demand for single-family home rentals is driving the market with rents for those homes up nearly 36% year-over-year, while apartment rents rose just 4.5%. Realtor.com's latest report shows August median rental prices nationwide were down from July, the first decrease since November 2021, signaling slowing signs in the rental market too.
We know the Federal Open Market Committee (FOMC) raised the federal funds rate by 75 basis points at its recent September meeting and also set its terminal rate of 4.6% in 2023. The terminal rate would be the end point for rate hikes, indicating the Fed does not plan to decrease interest rates next year. The FOMC also remains committed to bring inflation down to 2%. Freddie Mac's latest weekly survey showed the average for a 30-year fixed-rate mortgage moved up to 6.29%, something we haven't seen since 2007.
While there are forecasts of a recessionary environment on the horizon, it is still too soon to tell what type of correction we might see play out in the real estate markets. Denver has a strong economy and shortages for labor and materials persist throughout the industry while steady demand for homeownership remains. There are also a number of ambitious development projects proposed surrounding the metro area, from the $1B plan to develop 13-acres in the heart of Cherry Creek, to downtown's "Sports Mile" that would connect new developments around Empower field to Coors Filed, intersecting with the Ball Arena area development and River Mile project – Denver has a lot going for it!
I hope you have enjoyed this third quarter market summary. If we haven't connected in a while, please drop me a line with some feedback or let's grab coffee together and catch up soon!