It's Fall Season! Take some time to enjoy nature's beautiful autumn colors around Colorado this month!
Denver Sales Market Insights
Interest rates continue to dominate the narrative of a slower paced sales market. Rates jumped to 7.5% in August only to return to 7% on the last day of the month. 2020-2021 Market activity was an anomaly with record low rates, scarce inventory, and seemingly everyone feeling like they needed to be in the market at once – a scenario not likely to repeat itself anytime soon. Here in Denver, inventory is slowly growing and a sign of a level playing field is emerging between buyers and sellers once again.
New listings increased 1.74% and pending sales increased by 0.76% month-over-month
Active listings at month's end in August increased 8.87% month-over-month to 6,858 and pending sales declined nearly 14% with closed volume declining by 16.11%
Median close price dropped 1.36% from $590,000 to $582,000 and median days on market increased by 22.22% to 11 days, and homes are now sitting on the market for 70-days or more
Pricing your home correctly from the onset of listing is more crucial than ever. With a close-to-list-price ratio still in the 99th percentile, it is evident we are returning to a balanced market as it shows buyers and sellers coming together to negotiate with more even footing now. If you are considering a purchase, now is an excellent time to be shopping and negotiating a deal.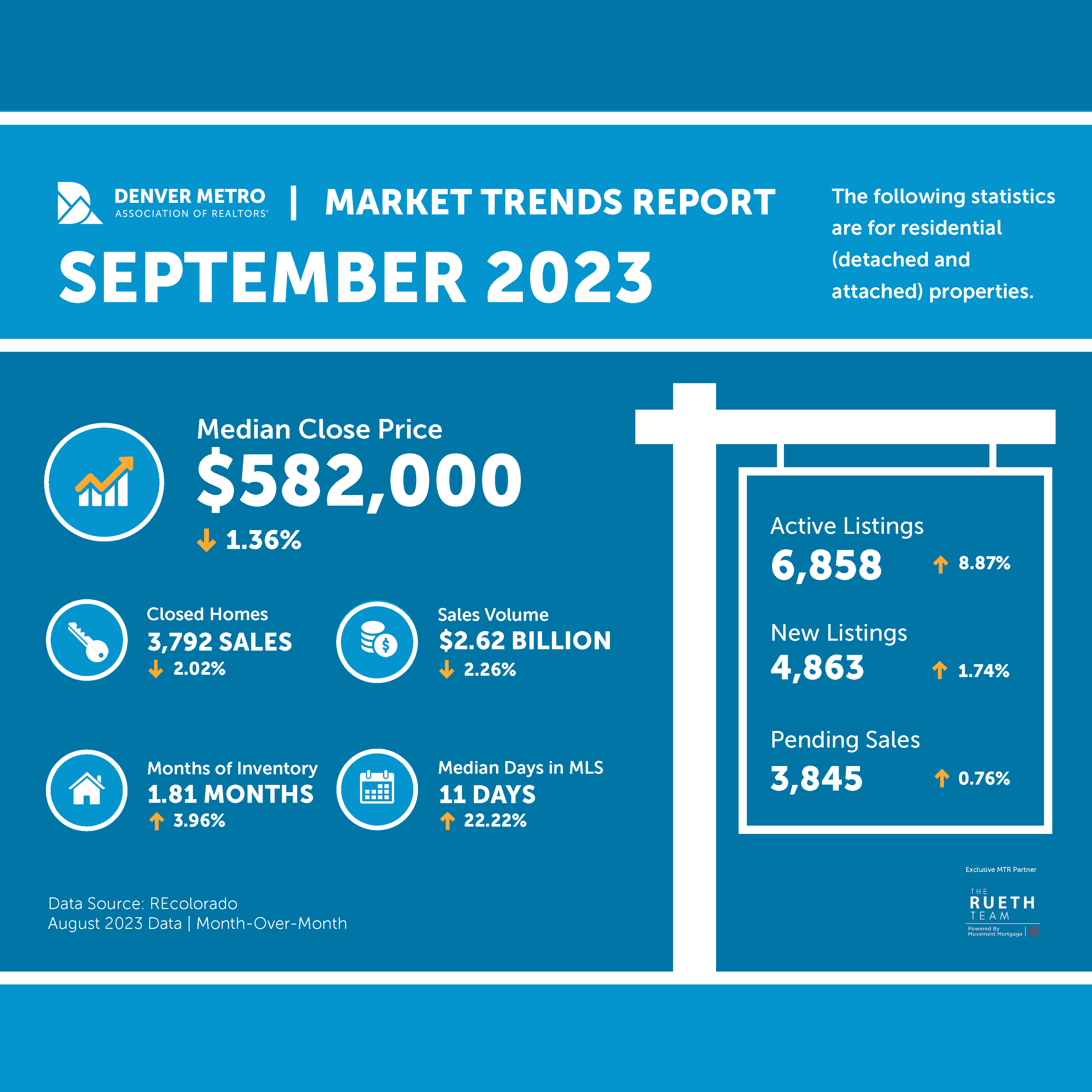 It is important to note, market trends set commissions (contrary to what many people think).
Rental Market Insights
According to estimates from ApartmentInsights, which tracks the multifamily market in Denver, roughly 46,000 rental apartments are currently under construction with another 75,000 in the pipeline. Rents likely won't rise with the ensuing competition to fill new units and any further economic headwinds could put pressure on prices, but any reprieve for renters may only last a few years compared to what commercial office tenants might experience.
During the first half of 2023, only 70 apartment development applications were submitted, versus 24,000 applications in the first and second quarters of 2022. This drastic change reflects Denver's new inclusionary housing ordinance, which requires developers of 10 or more residential units to designate 8% to 12% of all units built as affordable for a period of 99 years. Developers can opt-out by paying fees ranging from $250,000 to $478,000 per unit depending on a building's location and the type of product being offered. Higher interest rates have also contributed to the decline in application activity. Balanced supply of development is key to keeping balanced pricing for long-term population growth estimates.
2023 Residential Lease Changes 
In its 2023 legislative session, the Colorado General Assembly passed several bills that impact relationships between residential landlords and tenants. Here is an article to better understand these updates. Our company Lease Agreement Template has also been updated to be compliant with the recent changes. Feel free to contact us if you have questions.